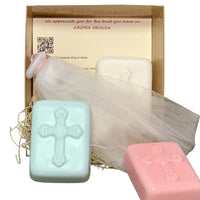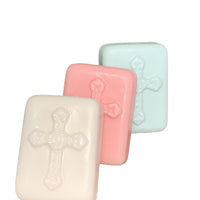 Soaps | Aroma 'CROSS' soap bar
Description
Aroma 'CROSS' soap bar - Elevate your beloved soap bar to new lathering heights with our exfoliating hanging mesh bag.
LIMITED EDITION 
Set of 3 (Pastel Blue, Pink and White @80g)
1 x Exfoliating hanging mesh bag
1 x Kraft gift box
Enriched with shea butter
Fully biodegradable
All of our soap bars are made from vegetable glycerin. Glycerin is a humectant, it helps retain, or reduce the loss of, moisture
Vegan friendly and cruelty-free
Notice:
Please bear with us that each of our LIMITED EDITION Aroma 'CROSS' soap bar is individually handcrafted, some minor irregularities can occur, such as marks, little globules etc.
Please understand that colors may exist chromatic aberration as the different placement of pictures.
Key Plant Actives
Aroma 'CROSS' soap bar in pastel blue color -Lavender / Petitgrain
Aroma 'CROSS' soap bar in pastel pink color -Ylang Ylang / Palmarosa
Aroma 'CROSS' soap bar in white color - Sandalwood / Grapefruit
Applications

Place Aroma 'CROSS' soap bar in mesh bag.
Simply massage the bar within the bag under running water to work up a lather as usual.
Simply hang your mesh bag to dry between use.
General Safety
For external and occasional use only.
Do not take essential oils internally.
Avoid contact with eye area.
Avoid the use of undiluted essential oils on the skin, unless otherwise indicated.
Keep all essential oils out of reach of children and pets. They can be poisonous if swallowed.
Essential oils are highly flammable substances and should be kept away from direct contact with flame.