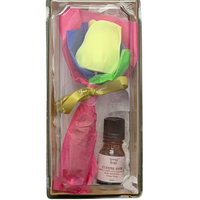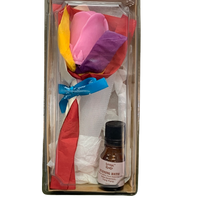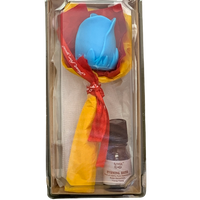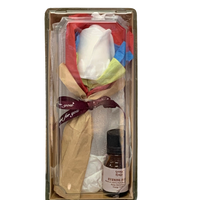 Description
Our hand-crafted aromatherapy. rose shape soaps are individually hand moulded and releases a rich and delicate foam that will help you relax as you perform self care. You will feel refreshed and your skin will feel perfectly clean after each use.
Our soaps are durable and serve as a wonderful decorative accent in the bathroom, which charges your home with a romantic and enjoyable atmosphere.
Our limited edition "Aroma Rose-shaped Soap" gift set contains:
1 x 50g – Aroma Rose-shaped soap
1 x 10ml - Evening Bath Blended Essential Oil
1 x Exfoliating Mesh Soap Bag
1 pc - Gift Box

Notice:  Please bear with us that each of our  "Aroma Rose-shaped soap" is individually handcrafted, some minor irregularities can occur, such as marks, little globules etc. 
Applications
Slip the Aroma 

Rose-shaped

 Soap into the

Exfoliating Mesh Soap Bag 

and secure it by pulling the drawstring

. Rub the soap in the mesh bag with a little bit of water to release the rich and delicate foam. Use this foam to cleanse the skin.




To store the soap, simply hang your soap to dry between use. You can put in the same place as your loofah.

You can add 2 drops of

Evening Bath Blended Essential Oil

to Aroma 

Rose-shaped

 Soap. Drop the essential oil onto

 the exfoliating mesh soap bag and add water to create lather.

Gently massage over your body to take advantage of the

 wondrous benefits for both the body and mind. Evening Bath Blended Essential Oil will encourage relaxation, help alleviate stress and tension and encourage the easy onset of a deep and rejuvenating sleep.
General Safety
For external and occasional use only.
Do not take essential oils internally.
Avoid contact with eye area.
Avoid the use of undiluted essential oils on the skin, unless otherwise indicated.
Keep all essential oils out of reach of children and pets. They can be poisonous if swallowed.
Essential oils are highly flammable substances and should be kept away from direct contact with flame.