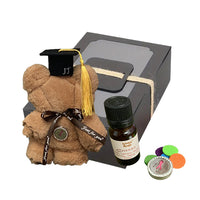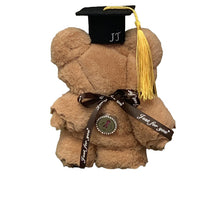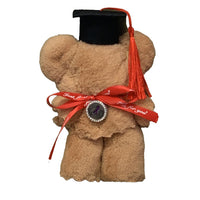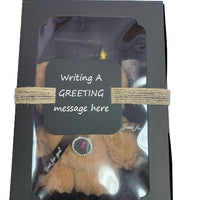 Description
FLEECE GRADUATION BEAR - The perfect gift for loved ones celebrating a graduation 
LIMITED EDITION
Ultra Soft FLEECE GRADUATION BEAR sits at 2.5cm tall
1 x 5ml "CHEERS" Essential Oil Blended - Scents are memorable and are often associated to moments in time, so having a specific graduation scent is the perfect way to landmark this milestone
1 x Air Freshener Stainless Steel Aromatherapy Magnetic Locket Buckle engraved with Faith, Hope and Love 
6 x Washable Multicolored Felt Pads
1 x Exquisite Box
Handcrafted in Canada
Notice:
LIMITED EDITION 

"FLEECE GRADUATION BEAR" is individually handcrafted, some minor irregularities can occur, such as marks, little globules etc.
Please understand that colors may exist chromatic aberration as the different placement of pictures.
Key Plant Actives
Lavender

Lemon
Tangerine
Rosemary
Ylang Ylang
Applications

Add 2-3 drop of "CHEERS" Essential Oil Blended onto the felt pad.
Felt pad can be changed or washed every 3-4 weeks.
The density of the felt pad has been especially designed for an ideal diffusion.
General Safety
For external and occasional use only.
Do not take essential oils internally.
Avoid contact with eye area.
Avoid the use of undiluted essential oils on the skin, unless otherwise indicated.
Keep all essential oils out of reach of children and pets. They can be poisonous if swallowed.
Essential oils are highly flammable substances and should be kept away from direct contact with flame.